A company is accessed through a search or creation in your system, or from links on a task card or from any other object that is linked to a company.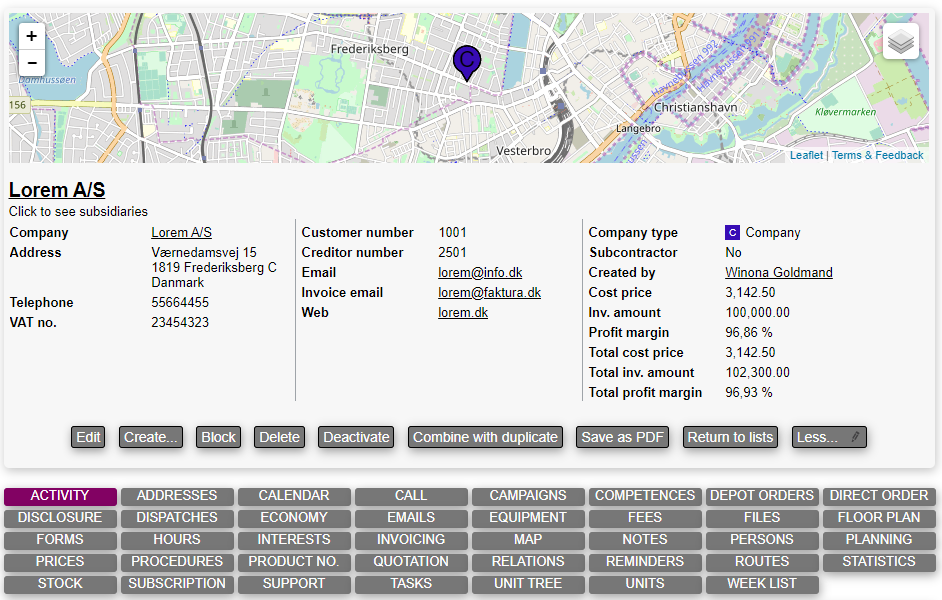 The buttons
On the frontpage of the user card we find different buttons:
Edit
Enter editing mode for the company allowing to change information regarding the company.
Create
Let's the user create new objects related to the company:
New appointment: Creates a new appointment with this company
New task: Creates a new task with this company
New project: Creates a new project
New task from template: Creates a new task from a template with this company
New unit: Creates a new unit with this company
New call: Creates a call for this company
New quotation: Creates a new quotation for this company
New order: Creates a new quick order for this company
New reminder: Creates a new reminder for this company
Block
A blocked company will appear in the system with a red crossed out name. The company will still appear in the system and it is still possible to create and edit calls, tasks etc. (if there have been given permission to do so) concerning the company.
A blocked company can be unblocked by choosing Un-block.
Delete
A company can be deleted in the system, so it no longer appears as active. It won't be able to create tasks, calls, people etc. for the company.
Deleting company
A deleted company can't be recreated
. All info is lost.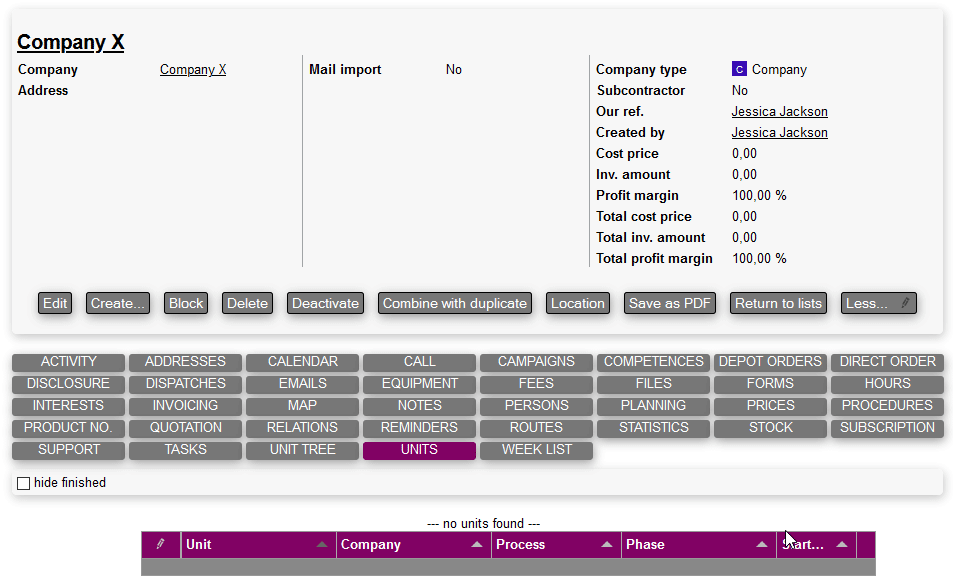 Deactivate
Deactivates the company, which makes it unreachable but not deleted. To reactivate the company, press reactivate deactivated company.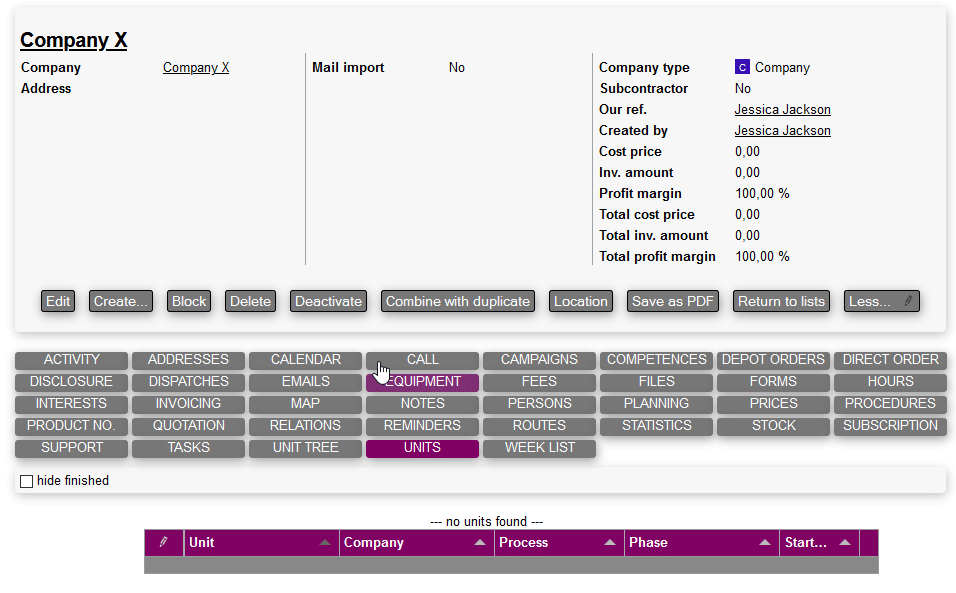 Combine with duplicate
Two companies can be combined by clicking the button Combine with Duplicate
It collects all the information from two companies to one.
The chosen company's data is overwritten with data from the other chosen company.
OBS: The companies can not be separated once they have been relined.
Save as PDF
Saved the company sheet as a PDF. Learn more about saving as PDF functionality here.
Return to list
Let's the user go back to the company search page.
Less/more
Show more/less of these buttons.
Company tabs

Right under the project card we see the company tabs. These have different purposes:
Activity:

Here is shown a chronological list of activities that the company has been involved in.
Addresses: Manage additional addresses for this company.
Calendar: See past, current and future appointments with this function.
Call: Manage sales calls for this company.
Competences: See what competences users need to have to execute work/tasks on this company.
Disclosure:

GDPR-related tab viewing a list of objects the user has been in contact with.
Dispatches:

Send predefined emails to the persons at specific companies.

Email: See previous mail correspondences through mail integration.
Equipment:

See and manage equipment that is attached to the company.
Fees: See what fees this customer pays when being invoiced.
Files: See and manage files for this company.
Forms: Fill out forms and see previously filled out ones.
Hours: See previous time registrations, and add new ones for this company.
Interests: See what products this company has shown interest to.
Invoicing: See current and previous invoices for this company.
Map:

Access map drawing functions.
Notes: See and write notes regarding this company.
Persons: See and manage the persons attached to this company.

Show history: When marked, it will show persons that was attached in the past
New association: You can easily attach a new person to the company
New person: You can easily create a new person with direct attachment to the company
Filter: Here you can filter through persons with person filters

Planning: See current, past and future planning for this company.
Prices: See and edit this company's prices, budgets, and discounts.
Procedures: See and edit procedures for this company.
Product No.: Changes name and product numbers to suit a specific company.
Quotation: See quotations for this company.
Relations: Manage relations between companies.
Reminders: See past, current and future reminders.
Routes: See routes this company is a part of.
Statistics: Choose different mini reports to see statistics about this company.
Stock: Use simple stock functionality to see how many products should be available for this company.
Subscription: See and manage subscriptions for this company.
Support: See all tickets for this company
Tasks: See all tasks for this company.
Unit tree: See this company's units as a tree structure.
Units: See this company's ongoing units.
Week list: See a list of todos based on different activities for this company.